CAS can help support your business – trusted advisors for planning and technology
Hurricanes can be dangerous for business organizations. The safety of their people, their operations' continuity, and their communications' connectivity are all at risk. Their landfalls can bring torrential rains, flooding, tornadoes, and high winds.
Its annual tropical cyclone season is in the Atlantic Ocean. The 2022 Atlantic Hurricane season officially began on June 1 and would end on November 30. Your command center must take all precautions and equip the organization with safety measures before the hurricane hits your area.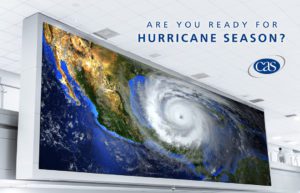 List of essential supplies that you need:
You may need supplies to keep your staff safe during and even after the hurricane. A storm could cut off power or water supply and severely damage roads and vehicles. You may not be able to get the supplies after the passing of the hurricane due to road blockage or floods. That's why it is better to stock up on everything you might need.
Have at least a 3-day water supply of one gallon per person daily.
Keep an emergency food supply that is easy to prepare and non-perishable for at least 3-days.
Emergency power supplies such as flashlights and extra batteries.
Emergency blanket, medicine supply of 7 days, and first aid kit.
Hand-crank or battery-powered radio.
Here are the other essential things you need to do to prepare yourself for hurricane season:
Make a plan
It would be best if you make a plan to prepare for hurricane season. Write down emergency numbers and keep them around telephones. Ensure that you and all the other staff members save the emergency contacts in their cell phones.
Next, you need to prepare an emergency supply kit for survival during a storm. It can be overwhelming to make and execute a plan, and that's why we are here to help. Our team analyses the user requirements for staff in the control room and installs all the current and future needs.
Effective Communication
It is essential to have a rapid and effective emergency communication system and external network services during severe weather situations. You need to provide real-time safety information and instructions to your employees and customers.
Corporations, educational institutions, hospitals, and government agencies must evaluate and test the health of communication networks. They should also check information systems before a severe weather event occurs to fulfill the duty of care standards.
CAS offers effective designs that work well with our customized program specially designed for users. We can help you set up your communication system, and our team addresses any immediate physical or technical issues.
Evacuation Considerations
You and your employees should prepare for a possible mandatory evacuation order if your area is likely to be directly affected by a hurricane. Mandatory evacuation orders do not force residents to leave. It is issued to warn them that first responders cannot reach the area until the storm has passed, and anyone who remains could suffer injury or death.
Say your organization is not in the evacuation zone, but your employee's homes may be in that zone. It can affect your company's operations because your employees cannot arrive at work safely. Update your Command centers to stay up and running to communicate to employees with the help of our experts.
You can help them find a safe place to evacuate by checking with FEMA, state, or local officials for designated shelters in the area. You could move operations to a company facility outside the storm's expected path and keep all critical personnel in contact with that location.
Maintaining a clear and time-sensitive connection in command centers during a hurricane is difficult. CAS's team creates systems that provide integrated and streamlined communication. We specialize in ensuring that your command and control centers provide real-time feedback when it counts.
Why should you trust us?
CAS previously has worked with companies to develop sophisticated control room IT and voice systems.
Our goal is to improve communication for end users, power companies, and internal staff.
Our team purpose-built new backup command and control centers to create a resilient technology environment and deliver power management to the east coast region.
We created technical specifications that reflected the requirements of the control room and power dispatch users.
Conclusion:
Hurricanes can be dangerous, but taking proper hurricane safety precautions to protect your staff and property will allow you to resume operations sooner after the storm.
Book a consultation call with us to help set up your command center. We will ensure that it functions correctly and that your organization has the infrastructure needed during hurricane season.